ITHAX comes in 4 modules
Home/Office module: It is installed together with your existing PABX or other infrastructure.
PDA – Mobile phone software module: May be downloaded and installed on almost every mobile with internet capability (iPhone, Android, Blackberry etc.)
PC/Laptop software module: It is installed in every PC, MAC or Linux based computer and allows you to make and receive calls like a normal telephone. Experience huge savings on calls from any fixed location or mobile phone on the planet towards any fixed, mobile, satellite destination worldwide as long as there is internet connectivity available (LAN, WiFi, 4G, 3G, 2G, Satellite, etc).
Pre-paid calling card platform:

For those who do not have access to PDAs and internet, callers call through a normal phone towards a local number and ithax responds and prompts them to dial the destination number of their liking.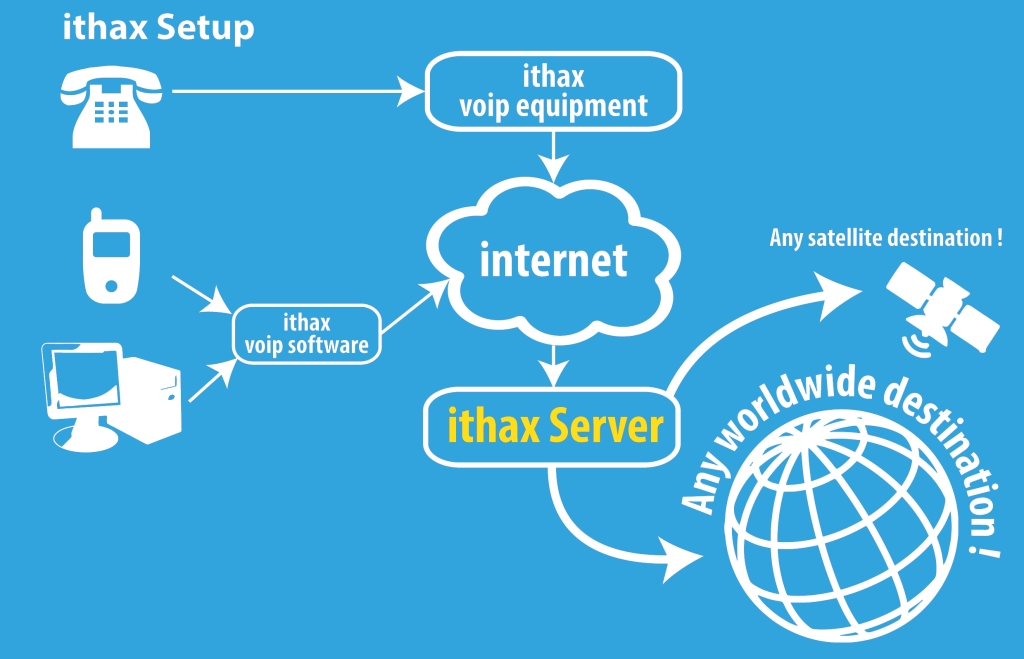 Main Characteristics
Works ANYWHERE over internet, ISDN, PSTN, GSM and Satellite (Inmarsat, VSAT etc) connections.

No special software or hardware is needed for the operation. ITHAX soft phones and routers may be used for simpler operation. Prepaid cards may be used over any normal fixed, mobile or satellite phone without internet access.

FREE ITHAX‐to‐ITHAX calls worldwide.

No minimum restrictive contract duration.

Charge per second, minimum call duration 1 second.


Same termination costs, irrespective of the originating country (no roaming charges worldwide).

Operates simultaneously with any existing provider, no need to change the old provider.


Programmable caller id (e.g. Calling through ITHAX over your mobile will show the number of your choice as as calling number, so that you may be recognised from the called party).

Supports any number of concurrent voice channels.

Very low local and international rates.

Very cheap telecommunication towards all major satellite networks (Inmarsat, Iridium, Thuraya etc).

Pricing of the service in USD or EUR, excluding VAT where not legally applicable.

High quality & reliable telephony service.

Pre‐paid and post‐paid billing options (fully automated platform for new and existing customers).

Real‐time, on‐line billing info and management of all accounts.

Pre‐paid calling cards (pins) capability.

User, Agent and Admin Web Portals for online payments and management of ITHAX accounts.

Instant refills over electronic payment.

Cloud PBX capability, meaning the customers do not have to pay for expensive PBXs locally.


Fax server capability. Users may send and receive faxes without a fax machine. They receive fax in PDF format to the email account of their choice.

Conference rooms.

Other facilities, like wake-up calls, alarms etc.


Provision of local telephone numbers in all major cities/countries for incoming calls. Normal and toll free. numbers available at low cost. Numbers belong to the users and do not change if customer moves offices.

Global call center interconnection and setup.

Extremely efficient bandwidth usage over high end codecs.

High grade of security over advanced protocols.

High availability and high redundancy.


Text messaging capability.

Instant messaging capability.


Video capability.

High end telecommunications consultancy services.

24/7 Customer Care & Support.
| FEATURE | TYPE | DESCRIPTION |
| --- | --- | --- |
| Calling Queues (ACD) | Corporate | Automatic Call Distribution (ACD), or call queuing, provides a way for a PBX to queue up incoming calls from a group of users: it aggregates multiple calls into a holding pattern and assigns each call a rank that determines the order in which that call should be delivered to an available agent (typically, first in first out). When an agent becomes available, the highest-ranked caller in the queue is delivered to that agent, and everyone else moves up a rank. |
| Direct Inward System Access (DISA) | Corporate | An external caller can access internal pbx features on certain CO lines by keying in a special code. The PBX answers the incoming call with dial tone, and the caller enters the access code (if required) and destination extension number or routing code. The basic idea behind this DISA /Call-Through solution is enabling authorized corporate users outside the office to make calls using the organization's special low tariffs, and to capitalize on the direct connection to the different operators. |
| Time Conditions | Corporate | The Time Conditions module defines a set of rules based on time groups. A time condition has two call destinations, one if the time of the call matches the time group assigned, and another if there is no match. Time conditions are often used to control how the PBX routes calls during business hours vs. outside business hours. |
| Interactive Voice Response (IVR) | Corporate | The IVR Module is used to set up a menu system that will play an initial recording to callers, allow them to dial an option or an extension number, and route their call to a particular location based upon what they dial. |
| Callback | Corporate | A callback will hang up on the caller and then call them back, directing them to the selected destination. This is useful for reducing mobile phone charges as well as for other applications.  |
| Unlimited extensions (IXT) | Corporate | Ithax Extension Numbers for registered users to call each other free of charge. They can also make outgoing calls. |
| Virtual extensions (IVXT) | Corporate | Ithax Extension Numbers for registered users to call each other free of charge. They cannot make outgoing calls. |
| Conference Bridge | Corporate | Users can dial so that they can talk to each other in a conference call.  |
| Fax to E-mail | Corporate | Receive fax messages to a fax number and convert them into pdf format and email them to a selected account. No fax machine is required. |
| Ring Groups | Corporate | The Ring Groups feature is used to create a single extension number that users can dial in order to ring multiple extensions at the same time.  |
| Music on Hold | Corporate | Music on hold (MOH) is the business practice of playing recorded music/message to fill the silence that would be heard by telephone callers who have been placed on hold. The Music on Hold (MOH) is intended to reassure callers that they are still connected to their calls.  |
| Calendar with third party integration | Corporate | You can use this calendar functionality to enable time conditions, schedule automatic pages, enable/disable find me follow me base on a schedule and more. You could also add a Google calendar and let the office staff manage their own time condition rules through google without needing to go into the PBX gui. |
| Voicemail Blasting | Corporate | Voicemail blasting lets you send a voicemail message to multiple users at the same time. The Voicemail Blasting module is used to create a group of users and assign a number to the group. A user can dial this number to leave a voicemail message for the group. All members of the group will receive the message in their voicemail boxes. |
| Find Me / Follow Me Calling | Corporate | Follow Me (also known as Find Me / Follow Me or FMFM) allows you to redirect a call that is placed to one of your extensions to another location. You can program the system to ring the extension alone for a certain period of time, then ring some other destination(s), such as a mobile phone or a related extension, and then go to the original extension's voicemail if the call is not answered.  Follow Me can also be used to divert calls to another extension without ringing the primary extension. |
| Wake Up Calls | Corporate | The Wake Up Calls feature can be used to schedule a reminder or wake up call to any valid destination. To schedule a call, dial the feature code assigned in the PBX Feature Codes module (default is *68), or use the form in the GUI interface. You can also enable an operator mode that allows operators to schedule wake up calls for other extensions or destinations. |
| Support for Video Calling | Corporate | |
| Secure Communications (SRTP/TLS) | Corporate | |
| Announcements | Corporate | The Announcements function is used to create a destination that will play an informational message to a caller.  After the message is played, the call will proceed to another destination. |
| Text to Speech | Corporate | Text To Speech allows you to add text to speech (TTS) instances on your PBX. You enter text to be read by a computer voice. When a TTS instance is entered as a destination in your call path, the system will play the text entered using the selected TTS engine. Then the call will then continue on to the target destination defined in the instance. |
| Calling Cards Server (ICC) | Corporate | Ithax Calling Card server responds with IVR to incoming calls either into the global 9999 ITHAX extension (IXN) or into any local ICC number per country. Users are prompted to enter their card number, and then they are asked to enter the destination number and they are read the remaining time corresponding to the dialled destination. Calls are charged on a 1/1 second basis. Funds never expire. |
| Three-Way Calling Support | Call Handling | A three-way call allows you to speak with two parties simultaneously essentially creating a mini conference call on your line.  |
| Voicemail | Call Handling | The voicemail system allows subscribers to exchange personal voice messages; to select and deliver voice information; and to process transactions relating to individuals, organizations, products and services, over the phone. |
| Voicemail to E-mail | Call Handling | Voicemail to email is a convenient feature that lets you listen to your voicemail messages from your computer, email inbox, or mobile device. |
| Caller ID Support | Call Handling | |
| Call Transfer | Call Handling | |
| Call Recording | Call Handling | |
| Do Not Disturb | Call Handling | |
| Call Waiting | Call Handling | |
| Call History/Call Detail Records | Call Handling | |
| Call Event Logging | Call Handling | |
| Speed Dials | Call Handling | |
| Caller Blacklisting | Call Handling | |
| Call Screening | Call Handling | |
| Open Standards Support for Multiple Protocols | Interfaces | |
| SIP, PJSIP, IAX2 | Interfaces | |
| PRI, T1, E1, J1, R2, POTS/Analog, ISDN, GSM | Interfaces | |
| WebRTC | Interfaces | |
| Softphone Support | Interfaces | |
| Specialty Device Support | Interfaces | |
| Door Phones | Interfaces | |
| Overhead Paging | Interfaces | |
| Strobe Alerts | Interfaces | |
| Paging Gateways | Interfaces | |
| Voice Gateways | Interfaces | |
| Failover Devices | Interfaces | |
| Desktop/Mobile Phone Support | Interfaces | |